1 tsp. baking soda
1 tsp. salt
1 tsp. cinnamon
1 cup veg. oil
8 oz. can crushed pineapple-do not drain
In a lg. bowl, combine flour, sugar, baking soda, salt, and cinnamon. Add eggs & oil, stirring until moistened. Do not beat. Stir in vanilla, pineapple, pecans, and bananas. Bake at 350 degrees in a greased bundt pan, or a 9x13 inch square pan, for 50-60 mins. Cool.
8 oz. pkg. softened cream cheese
1 tsp. vanilla
beat all ingredients until fluffy.
"Shrimp Linguine With Basil-Garlic Butter"

Serves 3-4
2 Tablespoons olive oil
1 pound Shrimp, large, peeled, and deveined
2 teaspoons Garlic, minced
3 Tablespoons Basil, fresh, chopped
3 Tablespoons Butter
1/2 pound Linguine, cooked
Grated Asiago cheese
Heat the oil in a skillet. Add the shrimp and cook until just pink. Add the garlic and basil. Add the butter. Toss in the cooked pasta. Garnish with the cheese.
"Better Butter"


2 sticks softened butter
1/3 C. canola oil

Use a wire whisk, or a hand mixer, to whip butter, and oil together until it is smooth with no lumps. You may add garlic powder, to make a garlic butter or chives to make a chive butter.
This butter has less calories, than just butter, therefore it is much better for you.
You may double the amounts to make a lb. if you wish.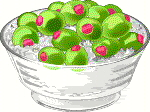 Olive Oil
Although the olive tree originated in Asia, it has been cultivated for over 3,000 years in Mediterranean countries, where much of the olive crop is used to make olive oil. In this process, olives are pitted and ground to a thick pulp. The pulp is then pressed to remove the juices, which are placed in a centrifuge to seperate the water from the oil. One tablespoon of olive oil contains 120 calories and 14 grams of fat, but the fat is mostly monounsaturated;it has a beneficial effect on blood cholesterol levels and is easily digested. In those countries where olive oil is consumed exstensively, such as Greece, Italy, and Spain, there is a low incidence of cardiovascular diseases. The mild vegetable mucilage in olive oil protects the body's digestive tract. Ancient civilizations used olive oil to help heal wounds. Today, it is considered a good remedy for skin problems and an effective moisturizer.

Choose the highest quality olive oil. Use only olive oil that is labled "extra virgin." This guarantees that the oil has been cold-pressed from freshly harvested olives and does not contain chemicals. Extra virgin olive oil supplies the best flavor, and oil that is golden-yellow in color is of higher quality than green.

Therapeutic Effect:Taken internally, olive oil stimulates metabolism, promotes digestion and lubricates mucous membranes. It can also be applied externally to treat dry skin.

Components:Olive oil contains 77 percent monounsaturated fatty acids. 14 percent saturated fatty acids and 9 percent polyunsaturated fatty acids, plus vegetable mucilage and vitamin E.

Help for the digestive tract: Take 1 Tbsp. of olive oil on an empty stomach to stimulate digestion and relieve upset stomach, flatulence and heartburn.

Olive oil for constipation:In the morning take, take 1 tsp. of olive oil mixed with lemon juice on an empty stomach. Or try an enema made from 5 oz. of olive oil in 20 oz. of boiling water, cooled to lukewarm.

The antioxidant benefit: The vitamin E in olive oil is an antioxidant.In addition, monounsaturated fatty acids are less easily damaged by oxygen than other types of fat. They are therefore less likely to produce free radicals, which damage cell membranes and contribute to several diseases.

Extra Tips

TO HELP BUILD STRONG FINGERNAILS AND SOFTEN CUTICLES:

Soak your nails each night in a mixture of 3 parts lukewarm olive oil to 1 part freshly-squeezed lemon juice. Put on cloth gloves, and let the oil penetrate overnight. Your nails will gradually become more resistant to breaking and chipping.

TO MOISTURIZE SKIN:

Apply daily to dry spots or stretch marks.

TO TREAT EAR COMPLAINTS:

To clear stopped up ears, put a few drops of lukewarm olive oil in the affected ear. Lie for 5 mins. on the opposite side, then turn over, so that the olive oil can flow out again. Do not put any liquid in your ear if you think you may have a perforated eardrum! For earaches, soak a cotton pad in olive oil, then add 5 drops of lavender oil. Place it loosely in your outer ear until the pain abates.

TO PREVENT HAIR LOSS:

Massage the scalp with olive oil every evening for 8 days. Let it work overnight and, wash it out in the morning.

Chives

A part of the same botanical family as onions, scallions, and garlic, chives grow from small bulbs and have a long history of culinary and medicinal uses. In the Middle Ages, chives were promoted as a cure for melancholy and believed to drive away evil spirits. Although we know that is not true. Today we know that chives and chive flowers are high in vitamin C, folic acid, and potassium. Therefore, they should be routinely added to help restore vital nutrients lost in cooking. This herb's tangy, aromatic taste comes from it's high concentration of sulfur compounds and other essential oils, which are also partly responsible for it's healing properties. Chives ease stomach distress, protect against heart disease and stroke, and may help the body fight bacteria that can cause disease.In addition, the herb may increase the body's ability to digest fat.

Therapeutic Effect:

The medicinal properties of chives are as varied as their uses in the kitchen. Chives stimulate the appetite and promote good digestion. They can be used to ease stomach upset, clear a stuffy nose, reduce flatulence, and prevent bad breath. Combined with a low-salt diet, they help lower high blood pressure. Plus, they have a mild diuretic effect, as well as some antibacterial properties.

Components:

Chives are valued for their many essential minerals, including cardiac-friendly potassium, bone strengthening calcium and, blood building iron. And unlike most other members of the onion family, chives are high in folic acid, a B vitamin, vitamin A, and vitamin C. In fact just 3 1/2 oz. of chives supplies enough vitamin C to meet your daily requirement of 60 mg.

Extra Tips
If you like the oniony flavor of chives, make your own chive salt to add zip to all sotrs of dishes. First add some chives to some salt. Then bake the mixture in the oven to dry the leaves, and blend the flavors. Store in an airtight jar.

Cholesterol Reduction:

Scientific research shows that chives stimulate the body's digestion of fat. Eaten regularly, chives may help lower blood cholesterol levels.

Cold Prevention:

The high vitamin C content in chives can help prevent colds. They also speed recovery if a cold develops by helping the body to expel mucus;the sulfurous compounds in chives are natural expectorants.

Kitchen Hints...

Cut chives just before serving them to preserve their vitamins, aroma, and flavor. Chives are delicate;to prevent the loss of essential oils, snip them with kitchen shears rather than chopping, or grinding them.

Don't heat chives or they will lose their valuable vitamin C as well as their digestive properties.

Freeze chives for future use.Frozen chives tend to retain more flavor than dried chives.


"Asparagus and Scallop Stirfry"
1 lb.fresh asparagus
3/4 c.reduced sodium chicken broth
1 tbsp. cornstarch
1 tsp. light soy sauce
1 tsp. sesame oil
3/4 lb. sea scallops-sliced
1 med. clove garlic
1 cup cherry tomatoes-halved
3 thin green onions
2 c. hot cooked rice
olive oil
Cut asparagus into 2" diagonal pieces. Cook until crisp-tender. Combine chicken broth, cornstarch, soy sauce, and set aside. Stir fry garlic, scallops, and mushrooms in olive oil until just cooked through, about 4 mins. Add cornstarch mixture. Cook, stirring until thickened.
Add asparagus, tomatoes, and green onions, heat.
Pepper to taste and serve over hot rice.
Serves 4
"Crab Meltaways"


This is the featured recipe of the week of 03/13/00 at the "Crab Place"
These will melt in your mouth, they are scrumpious!

1 lb. fresh crabmeat
1/2 lb.softened butter
1 jar Old English sharp cheese spread
2 Tab.mayo or salad dressing
1/2 tsp.garlic salt
1/2 tsp. seasoned salt
English muffins

Mix together butter, and cheese until blended;add salts and mayo. Stir in crab meat. Cut English muffin halves into quarters. Put a teaspoon of crab mixture on each quarter. Place under broiler until light brown. Best eaten right after they come from the broiler, although you can reheat them in the microwave, if necessary.
Delicious!




You may e-mail the Crab Place at...recipes@crisfield.md
You may also visit their site at...http://www.crabplace.com.
You may get more great crab recipes at...http://www.crabplace.com/recipe.html
"Crab Meat Mousse"
List of Ingredients:
2-8 oz. packages of cream cheese
1 can of creamed soup-10 3/4 oz. shrimp, celery, mushroom
1 cup finely chopped celery
1 cup finely chopped onion
1 cup mayonnaise
1 pound backfin crab meat
1/2 teaspoon curry
4 tablespoons of unflavored gelatin mixed with 1/2 cup water
Preparation Instructions:

Mix the 2 packages of cream cheese and the can of creamed soup together in a saucepan over low heat until well blended. Then add the remaining ingredients and mix together. Put in a greased mold and refrigerate until firm.

This recipe is credited to Betty Lou Hamel of Onancock, VA and was the Third Place Winner in the 1981 National Hard Crab Derby in Crisfield, MD.



"Crab, Broccoli and Macaroni"
List of Ingredients:
4 ounces of medium shell macaroni, uncooked
Vegetable cooking spray
1/3 cup of chopped green onion
3 cloves of garlic, minced
1 Tablespoon all-purpose flour
1/2 cup of white wine or Chablis
1/4 cup of skim milk
3/4 teaspoon of dried basil
1/2 teaspoon of dried dill weed
1/2 red pepper, diced
1 small sweet yellow pepper, seeded and cut into 1/2 inch pieces
1/2 pound of fresh broccoli, chopped
1 pound of jumbo lump crabmeat, less if desired
Paprika

Preparation Instructions:

Cook macaroni as directed, omitting salt and fat. Drain. Coat a large non-stick skilled with cooking spray, place over medium heat until hot. Add onions, garlic and peppers. Saute until crisp-tender. Remove from skillet, and set aside. Melt margarine in skillet and add flour. Cook over medium heat, stirring constantly until thickened. Remove from heat and gradually stir in milk, basil, and dill weed. Add onion mixture, peppers, broccoli, and crab meat to sauce. Let simmer for 5 minutes. Combine pasta and broccoli mixture. Mix gently. Garnish with fresh basil sprig, dust paprika across top of salad. Chill and serve with crackers. 1 cup = 218 calories.

This recipe is acredited to Polly Lohmeyer of Crisfield, Md., and was the 3rd place winner of the Crab Cooking Contest (Cold Plate Division)in Crisfield, Md.



"Imperial Crab Newburg"
List of Ingredients:
1 pound of Backfin Lump crab meat
1/4 cup of butter or margarine
2 Tablespoons of flour
1 cup of cream
2 egg yolks
1/2 teaspoon of salt
1/2 Tablespoon of cayenne
1 teaspoon of horseradish
2 Tablespoons of sherry
1 small package of slivered almonds
1 cup of bread crumbs mixed with enough butter to make a paste
Preparation Instructions:

Carefully separate lumps of crabmeat, and remove any shell or cartilage. Place in a shallow baking dish. To make sauce, melt butter and add flour, making a smooth paste. Add cream and bring mixture slowly to a boil. Simmer for about 2 minutes. Add well beaten egg yolks, salt, cayenne, horseradish and sherry. Cook over low heat for 3 extra minutes. Pour over crabmeat. Crush a cup of croutons: mix these with a small package of slivered almonds and enough melted butter to make a paste. Spread top of mixture with paste and bake at 350 degrees until brown.


This recipe is acredited to Amy Ammerman of Crisfield, Md. and was 3rd Place Winner of the 1976 Crab Cooking in Crisfield, Md.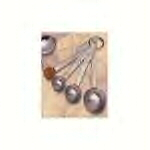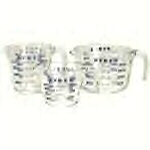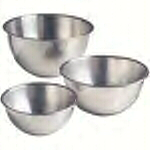 "MEASUREMENTS"

A pinch...................1/8 tsp
3 tsps.......................1 Tab
4 Tabs.....................1/4 cup
8 Tabs.....................1/2 cup
12 Tabs....................3/4 cup
16 Tabs......................1 cup
2 cups....................1 pint
4 cups.......................1 qt
4 qts........................1 gal
8 qts.....................1 peck
4 pecks..............1 bushel
16 ozs.......................1 lb
32 ozs......................1 qt
8 ozs liq.................1 cup
1 oz liq..................2 Tab
Conversion Chart
1 1/2 liter = 6 cups
1 liter (l) = 4 1/4 cups = good quart
500 ml = 1/2 liter = good 2 cups
1 dl = 100 ml = scant 1/2 cup
50 ml = 1/2 dl = scant 1/4 cup
1 kg = 2 1/4 lb
500 g = 1/2 kg = 1 lb 2 oz
250 g = 1/4 kg = 9 oz
100 g = 3 1/2 oz
50 g = scant 1/2 cup = 1 3/4 oz
1 inch = 2,54 cm
100 - 150C = 212 - 300F
175 - 225C = 350 - 425F
250C = 475F
275C = 525F
"CABBAGE SOUP DIET SEVEN DAY EATING PLAN"
(For Rapid Weight Loss Of Overweight Heart Patients)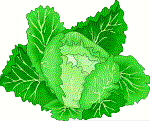 This diet is a FAST FAT BURNING DIET. The secret is that you will burn more calories than you take in, and it will flush your system of impurities and give you a feeling of well-being. AT THE END OF THE SEVENTH DAY, if you have not cheated on this diet, YOU WILL HAVE LOST 10 TO 17 POUNDS. If you have lost more than 15 pounds, go off it for 2 to 3 days before you try it again. This diet does not lend itself to drinking alcoholic beverages at any time because of the removal of fat buildup in your system. Go off the diet at least 24 hours before the intake of any alcohol.
Because every one's digestive system is different, this diet will effect everyone differently. After day three you will have more energy than when you began if you do not cheat. The SEVEN DAY EATING PLAN can be used as you like. If correctly followed, it will clean your system of impurities and give you a feeling of well being as never before.
If after being on the diet for several days, you find your bowel movement has changed, eat a cup of bran and fiber. Although you can have black coffee with this diet you my find you won't need the caffeine after the third day. Any prescribed medication will not hurt you on this diet. Continue this plan as long as you wish, and feel the difference in both mental and physical disposition.
THIS DIET IS USED FOR OVERWEIGHT HEART PATIENTS WHO NEED TO LOSE WEIGHT RAPIDLY BEFORE SURGERY.
DEFINITE NO-NO'S:
NO BREAD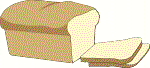 NO FRIED FOODS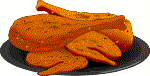 NO ALCOHOLIC BEVERAGES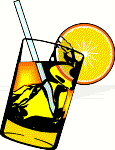 NO CARBONATED BEVERAGES, NOT EVEN DIET SOFT DRINKS
Stick with water, unsweetened teas, black coffee, and unsweetened fruit juices, cranberry juice, and skim milk- on the day it is allowed
BASIC FAT BURNING SOUP
This basic fat burning soup can be eaten at any time you feel hungry during the day, and you can eat as much as you wish as often as you like. This soup will not add calories. Eat all that you want.
THE MORE YOU EAT, THE MORE YOU WILL LOSE.
6 Large Green Onions
2 Green Peppers
1-2 Cans Diced Tomatoes
1 can V-8 Juice
1 Bunch Celery
1 Package Lipton Onion Soup Mix
1-2 Cubes of Buillion (if desired)
1 head cabbage
Cut vegetables into small pieces and cover with water. V-8 juice, and water can be used. Boil fast for 10 minutes. Reduce to simmer, and continue cooking until vegetables are tender. Season to taste with salt, bl. pepper, parsley, etc.
EAT AS MUCH AS YOU WANT WHENEVER YOU WANT ANY TIME OF THE DAY.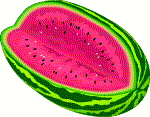 1.DAY ONE
ALL FRUITS EXCEPT BANANAS.
Your first day will consist of all of the fruit you want. Cantaloupes, and watermelon are lower in calories than most fruit. Eat only your soup, and the fruit for the first day. For drinks- unsweetened teas, cranberry juice, and water.
2.DAY TWO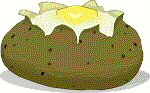 ALL VEGETABLES.
Eat until you are stuffed will all fresh, raw or cooked vegetables of your choice. Try to eat leafy green vegetables and stay away from dry beans, peas and corn. Eat all the vegetables you want along with your soup. At dinner, reward yourself with a big baked potato with butter. Do not eat fruit today.
3.DAY THREE
MIX DAY ONE AND TWO.
Eat all the soup, fruits and vegetables you want.
NO BAKED POTATO.
4.DAY FOUR
BANANAS AND SKIM MILK.
Eat as many as eight bananas, and drink as many glasses of skim milk as you would like on this day, along with your soup. Bananas are high in calories, and carbohydrates, and so is the milk, but on this particular day of diet, your body will need the potassium, and carbohydrates, protein, and calcium to lessen your cravings for sweets.
5.DAY FIVE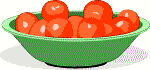 BEEF AND TOMATOES.
Ten to twenty ounces of beef and up to six fresh tomatoes. Drink at least 6 to 8 glasses of water this day to wash the uric acid from your body. Eat your soup at least once this day. You may eat broiled, or baked chicken instead of beef, but absolutely no skin on chicken. If you prefer, you can substitute broiled fish for the beef ONLY ONE OF THE BEEF DAYS.
YOU WILL NEED THE PROTEIN IN THE BEEF THE OTHER DAY.
6.DAY SIX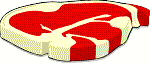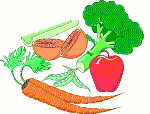 BEEF AND VEGETABLES
Eat to your heart's content of beef, and vegetables this day. You can even have 2, or 3 steaks if you like, with leafy green vegetables. NO BAKED POTATO. Eat your soup at least once.
7.DAY SEVEN
BROWN RICE,
Unsweetened fruit juices, and vegetables. Again STUFF, STUFF, STUFF yourself. Be sure to eat your soup at least once this day
Please do remember that keeping your body weight at, or near ideal body weight level is the foundation of your health, especially when you have diabetes, high blood pressure, or coronary heart disease. Your ideal body weight-IBW- can be estimated easily by the following formula:
IBW(Kg) =Height without shoes in meter x 22 or Height in inches/0.39/100 x 22 IBW lbs = IBW-Kg x 2.2
** This diet is not endorsed by the American Heart Association **
I will be adding more of my "favorite recipes" periodically.
Please let me know if you like the recipes that I've given you so far.
Thanks, good eating, and may God bless!